LNG Danger To Our Communities TimRileyLaw.com 760-683-5898
Consumer Protection Attorney Tim Riley Warns About Liquefied Natural Gas
LNG TERRORIST TARGET

Post 911
¤LNG¤
Liquefied Natural Gas
Is A Major Terrorist Target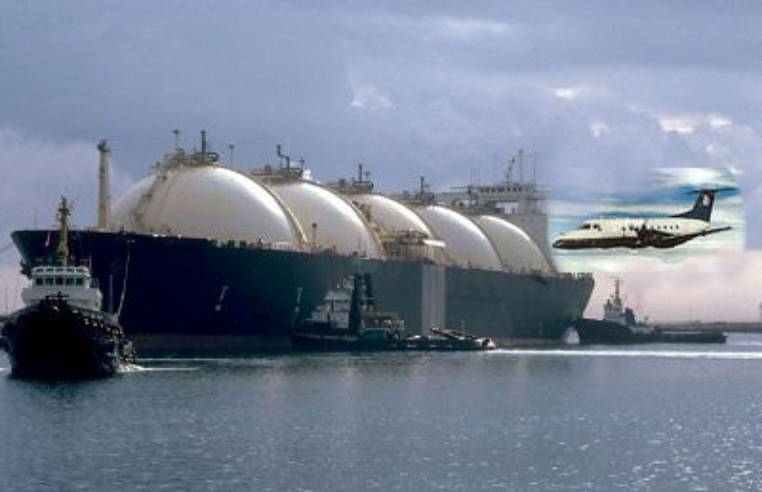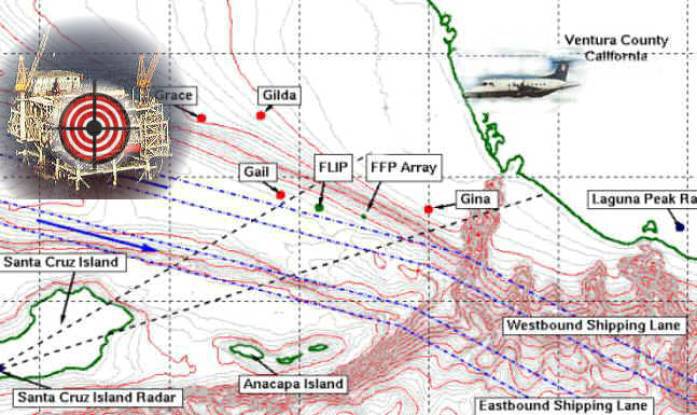 May 2009

Former CIA Official Warns Against LNG Terminal WJZ - Baltimore, MD, USA According to Charles Faddis, the retired head of CIA's Weapons of Mass Destruction Terrorism Unit, security is the safety issue. Faddis warns that an urban LNG operation creates two targets: the LNG plant itself and the enormous LNG tankers bringing in the frozen gas. According to the story, "the explosive power of a liquefied natural gas operation may be too good a target for terrorists to pass up."

February 2009

February 26, 2009 Most Recent Authorized Public Screening LNG opponents to show documentary on fuel dangers Providence Journal - Providence, RI WARREN - Opponents of a proposal to put a liquefied natural gas offloading facility in the middle of Mount Hope Bay are trying to raise concerns about the project with a showing of the 2004 video "The Risks & Dangers of LNG" Thursday at 7 p.m. at the Kickemuit Middle School, 525 Child St. The 45-minute video is being billed by the Kickemuit River Council and Warren Councilman Joseph DePasquale as "the film Weaver's Cove and Hess [Corporation] don't want you to see," a reference to the two developers of the project. Produced by two consumer protection advocates from Oxnard Shores, California, the video was made to demonstrate LNG's vulnerability to accidental disaster and terrorism. It also tries to show that a tanker breach could produce massive destruction to our coastal communities.

EDITORS NOTE: Other groups who are also interested in hosting Public Screenings of the film need to contact the Law Office of Tim Riley at 760-683-5898 to discuss the licensing fees and terms.

November 2008

Pirates seize oil tanker off East Africa coast Los Angeles Times "Security specialists are concerned that pirates might someday seize a tanker carrying pressurized liquefied natural gas, or LNG, then blow it up or sell it to terrorists. 'If it was an LNG tanker seized, we're looking at something potentially catastrophic,' said Candyce Kelshall, a specialist in maritime energy security at Blue Water Defence, a Trinidad-based firm that provides training to governments and companies combating piracy. 'An LNG tanker going up is like 50 Hiroshimas.'"

Oil and gas pirates of Somalia New Europe - Brussels, Belgium Somali pirates, who have given the Saudi owners of a 1,000- foot oil supertanker a looming deadline to cough up a USD 25 million ransom, could easily seize a tanker carrying pressurised liquefied natural gas, or LNG, a captain of 15 years told New Europe. "Sure. Chemical tankers have already been attacked so why not gas tankers," Marc Nuytemans, managing director of the Royal Belgian Shipowners' Association, told New Europe telephonically from Antwerp.

July 2008

Samsung to Deliver World's Biggest LNG Tanker for Exxon Project Bloomberg Samsung was contracted to make 11 tankers, each of 266,000 cubic-meter capacity...

NOTE: "The energy content of a single standard LNG tanker

(one hundred twenty-five thousand cubic meters) is equivalent to seven-tenths of a megaton of TNT, or about fifty-five Hiroshima bombs." according to Brittle Power Energy Strategy for National Security, Part 2 Disasters Waiting to Happen / Chapter 8: Liquefied Natural Gas (First Prepared as a US Pentagon Study) By Lovins & Lovins at page 88

April 2008

House passes Coast Guard bill despite Bush veto threat The Associated Press WASHINGTON (AP) — Defying President Bush's threatened veto, the House on Thursday overwhelmingly approved a bill making the Coast Guard enforce security zones around eight liquefied natural gas terminals and any arriving tankers - all potential terrorism targets. Read Bill Text: https://thomas.loc.gov

January 2008

ALERT: MARITIME SECURITY (GAO REPORT) - LNG Tankers Vulnerable & Security Resources Lacking Government Accountability Office Report LNG Tankers face three main types of threats - suicide attacks, 'standoff' attacks, and armed assaults resulting in severe threat to public safety, environmental, and energy supply chain. The Congressional report further admonishes that the US Coast Guard - the lead federal agency for maritime security - has insufficient resources to meet its own self-imposed security standards.

Coast Guard stretched thin, and it's about to get worse CBS News, Houston KHOU.com "I think it's assuming too much the Coast Guard itself is going to come out and say 'Sorry folks, we can't protect you,'" said Tim Riley, an attorney who has spent the last five years investigating the dangers of liquefied natural gas. "The Coast Guard has had difficulty meeting its own self-imposed requirements for security," the GAO report said. "We have started focusing on protecting air travel," Riley added. "But yet our harbors are very, very risky right now. We should shore it all up before major tragedies start happening in the country." VIDEO

LNG Tankers Vulnerable The Associated Press-

LNG tankers vulnerable to attack The Australian - Sydney, Australia

Q&A: Liquefied Natural Gas: A Potential Terrorist Target? New York Times

February 11, 2006

"Are LNG ships and terminals potential terrorist targets? Yes, because of LNG's raw explosive power, experts say. Al-Qaeda, for example, has specifically cited LNG as a desirable target..."

Terror Alert Offers Specifics, Washington

CBS News, The Early Show

August 12, 2005

"The FBI's terror warning to police in New York, Chicago, and Los Angeles is different from many of the other alerts issued by Washington since the 9-11 attacks: It's detailed, according to Col. Randy Larsen, a CBS News consultant who heads the Institute for Homeland Security." "Larsen says the main concern is liquefied natural gas, known as LNG, which is so explosive it can engulf an entire building if a truck carrying it crashes into one. "

Anti-Terrorism Expert Praises LNG Film: PRWeb "

Colonel David Gavigan, a nationally and internationally recognized specialist in terrorism, has praised filmmakers Tim and Hayden Riley and their film, The Risks and Danger of LNG. Gavigan is a graduate of the Army War College, the chairman of Massachusetts' Bristol County Homeland Security Task Force, a member of the U.S. Attorney's Anti-Terrorism Advisory Council (ATAC), Boston, MA, and is the military and terrorism analyst for FOX 25 TV, Boston."

"Let me start by congratulating you both on the outstanding DVD I just received entitled The Risks and Danger of LNG. This has to be an award winner. When I watched the film it gave me more insight into the dangers that communities face by the greed of large companies to site dangerous materials in populated areas. I feel that your work should set an example for others who wish to protect the public. The detail in your film of the dangers of LNG should leave no doubt in anyone's mind that we are facing a crisis when an LNG facility is sited in populated areas. It should be mandatory for every first responder to view this film," said Colonel Gavigan.

April 21, 2005

Text from US Congressional Record House Floor Arguments over Energy Bill H.R.6 Energy Policy Act of 2005 SEC. 320. LIQUEFACTION OR GASIFICATION NATURAL GAS TERMINALS at page H2344:

Mr. KENNEDY (D., RI)

"I will tell my colleagues, in Rhode Island we would welcome the chance to have our gas piped in from some other country because the fact of the matter is, our State knows, as every other State that has an LNG facility knows, that if we were to ever have that explode, it would decimate a 50-mile radius.

We will take our lives over our jobs, over our taxes, over our security."

Mr. Markey (D., MA,)

"If you just want the Federal Government to decide in the middle of your district where this most attractive of all terrorist targets will be located, then you vote ``no,'' but understand the consequences on the floor today."

NOTE: Mr. Markey is also a Senior Member of House Homeland Security Committee

May 10, 2005

Report warns of 'catastrophic' risk at gas terminal Reuters - USA BOSTON (Reuters) - A terrorist attack on a proposed liquefied natural gas terminal in urban New England could cause "catastrophic damage," former U.S. counterterrorism official Richard Clarke said in a report released on Monday...

READ THE ENTIRE REPORT: https://www.riag.state.ri.us/LNG_Good%20Harbor2.pdf

November 28, 2001

Ashcroft : US got threat against natural gas sector

WASHINGTON - U.S. Attorney General John Ashcroft said… Bush administration received information on a possible terror attack on the American natural gas sector...

"Ashcroft did not say if the threat was made against a specific natural gas pipeline, storage site or liquefied natural gas (LNG) plant."

"Substantial Hazard"

"We're especially always concerned as it relates to things that might have substantial hazard, and some of our energy (facilities) have substantial hazard," Ashcroft said.

"Terrorist Target"

"Maryland Democratic Senator Barbara Mikulski has demanded that FERC rescind its operating certificate for the (LNG) Cove Point plant, warning the facility is a terrorist target."

"We have received uncorroborated information that Osama bin Laden may have approved plans to attack natural gas supplies in the United States," said the FBI warning.

"We have no additional details on how such an attack would be carried out or which facilities would be targeted," the FBI added.
September 29, 2003
"Prior to the September 11th terrorist attacks, the major security issue considered in LNG infrastructure approval was accidental leakage from LNG storage and processing facilities. Residents of densely populated regions where LNG plants were planned expressed fears that gas could escape, congeal and possibly ignite. For nearly 50 years now, all discussions of risk and probability in LNG transport have focused on how to account for human errors. No real threat analysis was performed to find out possible vulnerabilities in transportation and storage procedures that could be utilized by terrorists."
"The present situation requires taking into account the likelihood of terrorist attacks on LNG infrastructure. The idea that terrorists could attack an LNG tanker or site with aircraft on a suicide mission must be recognized as possible. LNG terminals and tankers present especially attractive targets. While fires in petrochemical or petroleum plants tend to burn out quickly, LNG fires do not stop until all gas is consumed."
Author: Dr. Cyril Widdershoven is the editor of Global Energy Security Analysis (GESA) and Associate Fellow at the Institute for the Analysis of Global Security.
08/20/03
Mobile Register, News: Forum on bringing LNG terminal to Mobile draws 300 people
"In an interview, Don Juckett, an LNG expert with the Department of Energy, suggested that such an accident was "very, very unlikely" and that terrorism would be the most likely cause of such a disaster."
HOMELAND SECURITY ORANGE ALERT
12/23/2003
Boston Globe Officials stop gas tanker as Boston reacts to alert - State residents are told to keep holiday plans
"Massachusetts and Boston officials yesterday halted a tanker filled with flammable liquefied natural gas that was scheduled to sail into Boston Harbor today, as Governor Mitt Romney and Mayor Thomas M. Menino sought to assure residents the area was preparing for possible terrorist threats while urging them to enjoy the holiday season."
¤Liquefied Natural Gas¤
Tankers and Platforms are Vulnerable Sitting Ducks
Suiciden Aircraft Attack
May 3, 2003
"Crash an explosives-laden Small Aircraft"
CBS News | US Stops 9/11-Style Attack In Pakistan. "WASHINGTON - U.S. authorities say they have uncovered an al-Qaida plot to crash an explosives-laden small aircraft into the American consulate in Karachi, Pakistan. That prompted the Homeland Security Department to warn about possible attacks in the United States... The warning… urging vigilance to guard against similar attacks in America... the advisory says al-Qaida could try to use such planes because they are easily available and require less pilot skill than large jets… Security procedures also are less rigorous for small aircraft… "
This Small Aircraft Alert has Significant Relevance for the
Malibu, Oxnard, Ventura and Santa Barbara Communities
Because Two Offshore LNG Proposals There Will be Very Vulnerable
Oxnard Airport's departing runway [represented by the location and angle of the airplane in the graphic above] heads towards Platform Grace which is the location for one of the proposed offshore LNG facilities, and is within just 12 miles of Grace; and the runway is approximately 26 miles from the other proposed offshore LNG facility to be situated approximately 14 miles off Malibu.
Flights are permitted to depart 24/7 and approximately 95% do not file any flight plans. The unprotected LNG tankers and facilities would be sitting ducks for a small aircraft suicide attack from Oxnard Airport - a matter of minutes away - certainly not enough time to scramble defense fighters from Pt. Mugu.
Camarillo Airport is approximately just 6 more miles inland.
Santa Paula Airport is approximately just 15 more miles inland.
Santa Barbara Airport and Santa Monica Airport are also nearby.
LAX Flights will travel over both proposed facilities as well. [The Alaskan Airline tragedy
crash site was offshore centered between the two proposed LNG locations]
TERRORISM ALERT
MSNBC.com
NBC's Andrea Mitchell reports
November 21, 2003
"U.S. warns Americans of terror risk"
Homeland Security, State, FBI issue advisories on threats in U.S., abroad
Full Story: https://msnbc.com/news/996623.asp?0sl=-22
ASSOCIATED PRESS ABSTRACTS:
WASHINGTON, Nov. 21 — The government warned Friday of an increased risk of terrorist attacks on Americans at home and overseas and stressed concerns al-Qaida could try to hijack cargo jets and crash them into targets.
Of particular concern is 'al-Qaida's continued interest in aviation, including using cargo jets' to attack infrastructure such as bridges or dams 'as well as targeting liquid natural gas, chemical and other hazardous materials facilities,' the department said in a statement."
March 24, 2004
Mobile Register
Book Details LNG Terror Risk
FULL STORY: https://www.al.com/news/mobileregister/index.ssf?/base/news/1080123508102400.xml
Former counterterrorism chief says threat of massive LNG incident in Boston Harbor was considered in wake of Sept. 11 attacks
By BEN RAINES
ABSTRACTS:
Prior to the terrorist attacks of Sept. 11, 2001, senior Bush Administration officials knew "that al Qaeda operatives had been infiltrating Boston by coming in on liquid natural gas tankers from Algeria," according to a new book by former White House counterterrorism chief Richard Clarke.
The book further states "we had also learned that had one of the giant tankers blown up in the harbor, it would have wiped out downtown Boston."
The Mobile Register has also discovered that LNG tanker simulator programs available for sale on the Internet are designed to instruct crews in every facet of the operation of LNG tankers.
Terrorists who used these programs would be tutored in all aspects of running the vessels, including controlling the valves and gauges that regulate temperature and other critical factors that govern the integrity of LNG storage containers on the ships.
Federal and industry officials who have made presentations in support of building LNG terminals near residential areas on Mobile Bay have said that it is unlikely such a facility would become a terrorist target.
But that view is challenged in Clarke's new book. Clarke served as terrorism chief under Presidents George W. Bush and Bill Clinton, until resigning in March 2003. He served in other national security posts under both President Reagan and the first President Bush.
Both his assertions appear to directly contradict statements top Bush Administration officials made to members of Congress and public safety officials in Boston regarding security issues at the Distrigas LNG terminal located near Boston.
He indicates in the book that shutting down Boston Harbor was one of the administration's first priorities after the terrorist-commandeered planes hit the Twin Towers.
Copyright 2004 al.com. All Rights Reserved
Imagine ...
Aircraft Suicide into 20 Billion Gallons of Natural Gas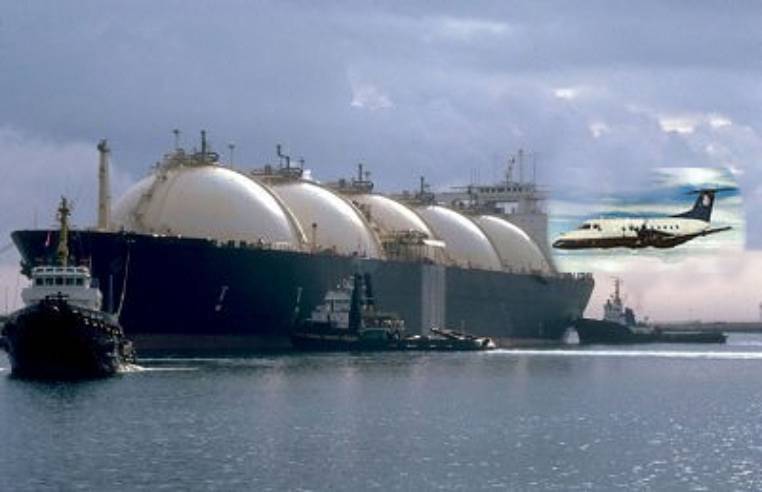 TERRORISTS NEED ONLY PROVIDE THE TRIGGER ...
THE ENORMOUS VOLUME OF
Liquefied Natural Gas
RELEASED / UNLEASHED
WOULD DISPERSE AND PROVIDE DEVASTATING POWER
FOR MASS DESTRUCTION
The Science & Environmental
Policy Project
https://www.sepp.org/weekwas/2002/Jan5.htm
By Dr. S. Fred Singer
2. HARBOR SECURITY
"Next to a nuclear bomb, the most destructive kind of calamity imaginable is the explosion in a big-city harbor of a tanker carrying Liquefied Natural Gas. Remember the Baytown, Texas disaster? An LNG explosion would be much worse and take many more lives. The science of such an event has been studied by experts years ago when LNG shipments from Algeria to US ports first started. The most outstanding analysis was by James Fay, MIT professor of mechanical engineering. It should be revisited in light of the current terrorist threat.
Protection against such an attack by a terrorist (or even by an odd maniac) is the responsibility of the US Coast Guard. Europeans also need to be on guard against such a threat. It could even occur in Algeria and other terminals where LNG tankers are loaded. Think of a nuclear bomb (without the radioactive fallout, to be sure). And no need to steal nuclear material…."
Remember...
"The energy content of a
Single standard LNG tanker
(one hundred twenty-five thousand cubic meters)
is equivalent to seven-tenths of a megaton of TNT, or
about 55 Hiroshima bombs."
Part 2 Disasters Waiting to Happen / Chapter 8: Liquefied Natural Gas, at page 88
[ First Prepared as a US Pentagon Study ]
By Lovins & Lovins
OTHER TERRORIST SCENARIOS
THAT COULD UNLEASH
THE HORRIFYING VOLUME OF NATURAL GAS
Explosive-Laden Motor Boat, ala USS Cole
Scuba Diver Sabotage
Seizure of Tankers - Seizure Of Platforms
Onboard Sabotage Manipulation of Valves
Rocket Launcher - Grenade Launcher Helicopter - Bomb..., etc.
MSNBC Archives
WASHINGTON, July 22, 2003
"U.S. Maritime Targets Tempting
Attacks on cruise ships, passenger vessels and other maritime targets 'represent an attractive option for terrorists' and can be carried out 'using commercially available equipment,' says the FBI in a warning issued late last year and underscored in subsequent memos. "
"…FBI has continued to warn of potential terrorist interest in maritime targets in subsequent memos based on information gathered from captured al-Qaida operatives…" "The FBI memo issued in December warning of al-Qaida interest in maritime targets also warned that 'explosive-laden boats represent the primary threat to U.S. maritime interests.' The memo referenced the October 2000 bombing of the USS Cole while refueling in Yemen as a prime example along with last year's attack on the French oil vessel Limburg off the Yemeni coast, noting that terrorists are capable of converting 'an innocuous small craft into an effective weapon.'"
"The FBI also warned of al-Qaida operatives having been trained as 'combat divers' through scuba courses. Such training would allow the terrorists to 'place explosives with command or delayed-action fuses to detonate while the ship was underway.' FBI agents, acting on information gleaned from captured al-Qaida operatives, visited hundreds of dive shops across the nation late last year looking for clues that might lead to hard evidence that al-Qaida was planning such an attack. The FBI won't comment on such investigations."
May 8, 2004
Portland Press Herald
Terrorism threat roils debate on LNG safety
By MEREDITH GOAD
Full Story: https://www.pressherald.com/news/local/040508lngsafe.shtml
ABSTRACTS:
LNG terminals are "a terrorist attack waiting to happen," said Anne Korin, director of policy and strategic planning at the Institute for the Analysis of Global Security, a nonprofit think tank in Washington, D.C., that focuses on energy security issues.
"In the days when the primary concern was accidents and things like that, LNG terminals and tankers were thought of as pretty secure," Korin said. "But once you start looking at the terrorist risk, they become very, very, very dangerous facilities."
Korin said the type of attack conducted against the double-hulled French oil tanker Limburg, in which a boat loaded with explosives rammed into the ship and penetrated both hulls, could be a disaster when directed at an LNG tanker.
The Double-Hulled
French Oil Tanker Limburg
Was Vulnerable to Terrorism
A Small Motor Boat with Explosives
Blew Open the Double-Hulls
LNG TANKER
DOUBLE-HULLS
ARE VULNERABLE
"The FBI memo issued in December warning of al-Qaida interest in maritime targets also warned that 'explosive-laden boats represent the primary threat to U.S. maritime interests.'
The memo referenced the October 2000 bombing of the USS Cole while refueling in Yemen as a prime example along with last year's attack on the French oil vessel Limburg off the Yemeni coast, noting that terrorists are capable of converting 'an innocuous small craft into an effective weapon.'" MSNBC
Remember The USS COLE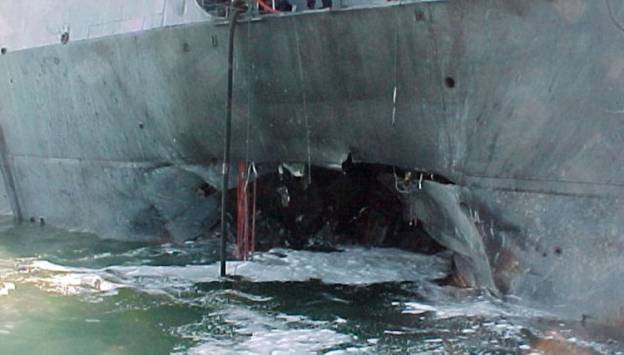 Armed and Protected Military Warships are Vulnerable
Imagine the Vulnerability
Of Moored Non-Military Tankers
Loaded With 20 BILLION Gallons of Natural Gas
Just Imagine...
If Suicidal Terrorists Seized an LNG Tanker
Bringing it Dangerously Close to Shore
We Would All Be Extremely Vulnerable
The Tremendous Danger and Volatility of the Circumstances
Would Make the Use of Ammunitions Very Perilous
In the Overtaking or Removing Them
Impervious to Attack from Rescue Forces
The Suicidal Terrorists Could
Manipulate Onboard Valves Unleashing
The Billions of Gallons of Natural Gas
For Dispersion and Mass Destruction
"The Mobile Register has also discovered that LNG tanker simulator programs available for sale on the Internet are designed to instruct crews in every facet of the operation of LNG tankers.
Terrorists who used these programs would be tutored in all aspects of running the vessels, including controlling the valves and gauges that regulate temperature and other critical factors that govern the integrity of LNG storage containers on the ships."
March 24, 2004 Mobile Register
https://www.al.com/news/mobileregister/index.ssf?/base/news/1080123508102400.xml
abcNEWS.com
https://abcnews.go.com/sections/wnt/World/sept11_piracy030910.html
September 10, 2003
"An ABCNEWS investigation has uncovered the increasing fears in shipping and security circles that armed terrorists may, as pirates already do, seize ships carrying liquid natural gas, chemicals or oil. But, rather than rob a ship, they could transform it into what a sea captain in Malaysia, Raja Kumar, calls 'a floating bomb.'"
January 28, 2004,
Congressional Research Service
CRS Report for Congress
Liquefied Natural Gas (LNG)
Import Terminals: Siting, Safety and Regulation
Specialist in Science and Technology Resources, Science, and Industry Division
At page CRS-6
" Terrorism Hazards. LNG tankers and land-based facilities could be vulnerable to terrorism.
Tankers might be physically attacked in a variety of ways to destroy their cargo - or commandeered for use as weapons against coastal targets. LNG terminal facilities might also be physically attacked with explosives or through other means. Some LNG facilities may also be indirectly disrupted by "cyber-attacks" or attacks on regional electricity grids and communications networks which could in turn affect dependent LNG control and safety systems." https://www.wildcalifornia.org/cgi-files/0/pdfs/1078177225_LNG_Ignites_Controversy_CRS_Report_to_Congress_LNG_Jan_04.pdf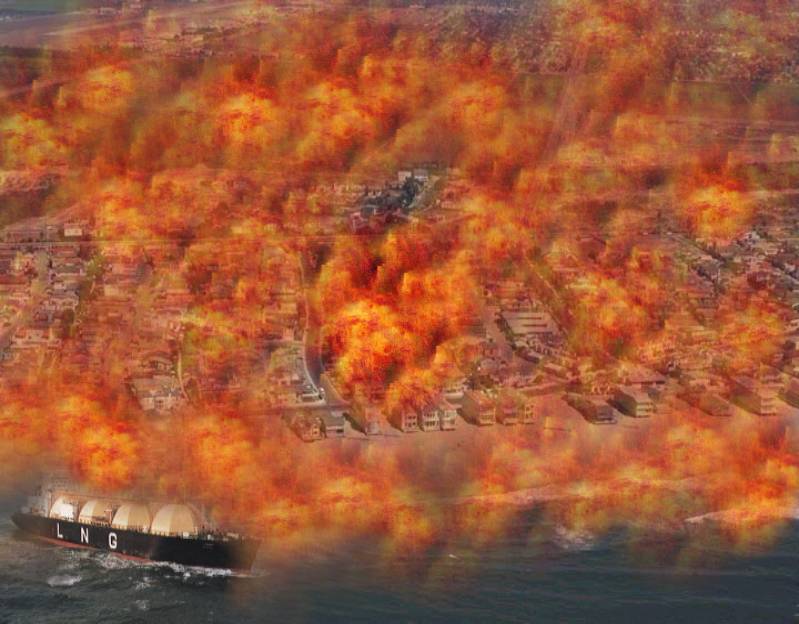 LNG Tanks Afford Limited Protection Even Against
Non-military Small Arms Projectiles
Brittle Power Energy Strategy for National Security
By Lovins & Lovins
Part 2 Disasters Waiting to Happen
Chapter 8: Liquefied Natural Gas
"Onboard sabotage would be relatively straightforward. Manipulation of onboard valves could in some circumstances rupture the LNG tanks from overpressure. Alternatively, all LNG tanker designs allow internal access below the tanks, and if a tank were deliberately ruptured, ducts open at both ends and running the full length of the cargo area would help to distribute liquid. Any such substantial spillage of LNG onto the steel hull would probably shatter it."
"The General Accounting Office warned that 'Only an expert would recognize some types of explosive material as explosives. One LNG ship crew member, trained in the use of explosives, could cause simultaneous tank and hull damage...[which] might initiate an extremely hazardous series of events.'"
"Abrupt, massive releases are indeed possible, as in Cleveland in 1944, because 'if the inner tank alone fails for any reason, it is almost certain that the outer tank will rupture from the pressure and thermal shock.' It also appears that relatively small cracks or holes in a large, fully loaded LNG tank could cause it to fail catastrophically by instant propagation of the crack."
"This proneness to brittle fracture implies that relatively small disruptions by sabotage, earthquake, objects flung at the tank by high winds, etc. could well cause immediate, massive failure of an above grade LNG tank. Certainly enough weaponry is available to pierce such a tank with ease. The General Accounting Office confirms that the equipment stolen from National Guard armories includes 'small arms, automatic weapons, recoilless rifles, anti-tank weapons, mortars, rocket launchers, and demolition charges. A large number of commercially available publications provide detailed instructions on the home manufacture of explosives, incendiaries, bombs, shaped charges, and various other destructive devices. All the required material can be bought at hardware stores, drug stores, and agricultural supply outlets.... It is not unusual for international terrorist groups to be armed with the latest military versions of fully automatic firearms, anti-aircraft or anti-tank rockets, and sophisticated explosive devices.'"
"The General Accounting Office also found, however, that such sophistication would not be necessary to cause a major LNG release. Live firing tests 'confirmed that the double-wall structure of [LNG]...tanks affords limited protection even against non-military small arms projectiles, and that devices used by terrorists could cause a catastrophic failure of the inner wall.'"
"A further hazard of LNG is that its extreme cold causes most metals to become brittle and contract violently. If LNG spills onto ordinary metals (that is, those not specially alloyed for such low temperatures), such as the deck plating of a ship, it often causes instant brittle fractures. Thus failure of the special cryogenic-alloy membranes which contain the LNG in tanks or tankers could bring it into contact with ordinary steel—the hull of a ship or the outer tank of a marine vessel—and cause it to unzip like a banana, a risk most analyses ignore."
Tuesday, October 12, 2004
Mobile Register
Fire threat in LNG ships
Top U.S. security officials now admit that insulation in vessels is highly flammable
https://www.al.com/news/mobileregister/index.ssf?/base/news/109757270533150.xml
By BEN RAINES Staff Reporter
Top officials with the Department of Homeland Security and the U.S. Coast Guard now acknowledge that ships designed to carry liquefied natural gas are, in fact, constructed using tons of highly flammable polystyrene insulation.
The same officials had previously denied that the material was even present on the ships, maintaining in a letter to a member of Congress last May that polystyrene insulation "is not used on LNG carriers precisely because it's susceptible to melting and deformation in a fire."
Officials now describe that statement as "incorrect," and granted that many important questions remain about what might happen to an LNG vessel if terrorists attacked it. Some scenarios envision a fire a mile across, producing severe burns up to two miles away.
As early as February, some scientists brought concerns to Homeland Security officials about the widespread use of flammable insulation on ships carrying one of the nation's most dangerously flammable cargoes.
Shortly after, government documents began surfacing suggesting that there was no danger, simply because, according to the documents, the flammable insulation was not present on LNG ships.
In the past several months, the statement has turned up in congressional hearings, letters to Congress and Federal Energy Regulatory Commission documents that granted approval for new LNG terminals. Two such terminals have been proposed for the Mobile area, with a third proposed for federal waters 11 miles off of Dauphin Island.
The mistaken assertion originally appeared in a letter from Homeland Security to Rep. Ed Markey, D-Mass., whose suburban Boston district is home to the nation's only urban LNG port, long singled out by Homeland Security officials as a likely terror target.
In that letter, Pamela Turner, an assistant secretary for the federal security agency, rebutted concerns from the scientific community about the hazards posed by the insulation with the statement that it was "not used."
When natural gas is chilled to minus 260 degrees, it turns into a liquid, takes up 600 times less space, and can be economically shipped around the world aboard supertankers, just like oil. From a shipping perspective, the main difference between the fuels is that LNG vessels require tremendous amounts of insulation in order to keep the cargo below minus 260 degrees and in its condensed liquid state.
Beginning in February, a prominent LNG scientist warned Secretary Tom Ridge and other officials via personal letters that if terrorists attacked an LNG tanker, the heat from the ensuing fire would likely destroy the polystyrene cargo insulation.
The Mobile Register obtained a copy of one of those letters, written by University of Arkansas chemical engineering professor Jerry Havens, whose work has long been a central component of federal LNG regulations. The letter made clear that the problematic insulation was commonly used on LNG tankers.
Havens -- a former officer in the U.S. Army's chemical weapons division who is expert in biological warfare, nuclear weapons and the behavior of chemical fires -- warned "if the cargo containment insulation were to fail in a fire, I believe that the entire LNG containment could be compromised."
Writing in scientific journals and testifying before Congress, Havens has suggested the government was underestimating the public safety risks posed by an attack on an LNG vessel in a populated port area. His central criticism is that officials have never considered what would happen if all 30 million gallons on board an LNG vessel were ignited.
At this point, federal officials are making regulations based on a worst-case scenario accident that would involve less than a fifth of the natural gas aboard a tanker.
In the letter to Ridge, Havens referenced a confidential study, paid for by the LNG terminal operator in Boston Har bor and produced by Lloyd's Register of Shipping, that suggests an attack on an LNG tanker with a relatively small explosive charge could lead to an escalating series of fires and explosions that would ultimately consume the ship. Scientists both within the federal government and in academia have estimated such a fire would be a mile across and cause severe burns to people within two miles of the blaze.
Some in the scientific community have expressed alarm that the senior government officials in charge of protecting the nation's ports did not appear to understand critical facts regarding construction of LNG ships, even as the Department of Energy and FERC have sought to locate new LNG terminals in populated port areas.
Turner's statement went uncorrected by government agencies from May until Sept. 13, when a follow-up letter described the earlier statement as "incorrect." The follow-up letter states that the Coast Guard informed Markey's office on Aug. 30 that the earlier information was wrong.
In the interim, beginning in June, the Mobile Register published portions of numerous industry documents that show polystyrene is the primary insulation on LNG ships, and referenced a paper by the Society of International Gas Tanker and Terminal Operators that states the material was so flammable that dozens of shipyard workers have been killed in accidental fires during tanker construction and repair.
The inaccurate statements regarding the presence of the foam insulation on LNG ships have been repeated in FERC documents, and were used by FERC to justify, in part, the construction of new LNG terminals in populated areas.
In its approval for a new terminal in Freeport, Texas, FERC wrote that bringing the LNG tankers into Freeport represented an "acceptable risk," partly because "polystyrene insulation is not used on LNG carriers."
Last week, a FERC spokeswoman said that several other pending permits for new LNG terminals contain the same statement by the agency. There was no word on whether those permits will be reviewed or whether the erroneous information will be repeated in future permit approvals.
FERC officials declined further comment for this story.
Capt. Dave Scott, with the Coast Guard in Washington, said that his agency was responsible for the error, and said it was made while conducting research into LNG issues. He said that since then, the Coast Guard has conducted further research and determined that, while the flammable insulation is used on LNG ships, the vessels are in compliance with all U.S. and international shipping regulations. In addition, he said his agency was satisfied with safety features designed into LNG ships, and warned that "there is no such thing as a terrorist-proof ship."
"We erred in saying it was not used. Of course it is used... Our position at the Coast Guard is that intentional damage to an LNG vessel is an unacceptable event. We are doing everything possible to make sure that doesn't happen," Scott said. "We recognize the dangers posed by gas ships. That's why we take the precautions we do."
He cautioned that protecting numerous LNG terminals in the nation's ports will require significant Coast Guard resources, more than if the terminals were built offshore, away from port facilities and the public. At least four offshore terminals are planned for the Gulf of Mexico, with permit applications well under way.
"If you can reduce the public safety impacts of something, all things being equal, then an offshore terminal would be preferable in many respects," Scott said. "That's not to say an inshore terminal could not be responsibly managed. But an inshore terminal may demand a higher level of Coast Guard resources to protect than an offshore terminal."
Scott said that the Coast Guard will act responsibly if a long-awaited LNG safety study under way by the Sandia National Laboratory indicates that LNG ships need safety improvements to lessen the risk of catastrophic fire or require increased security measures to protect the public.
Homeland Security officials indicated in their latest letter to Massachusetts congressman Markey that they are unsure what would happen to an LNG ship in the event of a terrorist attack.
The agency letter suggests that the same LNG safety study Scott mentioned "is expected to examine how the cargo tank insulation would perform under an extreme fire load, and the degree to which insulation decomposition could affect the survivability of undamaged cargo tanks."
That letter -- written by Homeland Security's Turner, who signed the earlier letter as well -- states "there is no economically feasible engineering or design solution that could mitigate the consequences of a large scale LNG release on the vessel's hull."
Turner made that comment in reference to scientists' concerns that the steel hull of an LNG ship might crack and fall apart after a terror attack due to the simultaneous temperature extremes posed by both an intense natural gas fire and the super-chilled LNG. In her earlier letter, she dismissed concerns about possible hull damage, writing that "special crack-arresting steel in strategic locations throughout the vessel's hull" had solved that problem.
The Mobile Register left a message for Turner, seeking comment, but she did not respond.
Copyright 2004 al.com. All Rights Reserved.
MSNBC NEWS Reuters DUBAI, United Arab Emirates,
Aug. 3, 2003
Attorney General John Ashcroft, speaking on "Fox News Sunday," said "The potential for us to be hit again is a very real potential." "I believe al-Qaida wants to strike us. I believe they want to strike us whenever and wherever they can.
Ridge also conceded that "it will be several years until we get the kind of robust system that we need" to protect Americans at home. "We are not where we need to be ..."
March 14, 2005
Pirates Seize Gas Tanker in Malacca Straits
Voice of America - Jakarta
By Nancy-Amelia Collins Jakarta Collins report [Listen to]

Malaysian patrol boat in Malacca Straits Pirates briefly seized a chemical tanker in the Malacca Strait, releasing the boat and crew but holding the captain and chief engineer for ransom. The latest act of piracy in one of the world's busiest shipping lanes underscores security concerns for that region.
Around 35 pirates armed with machine guns and rocket launchers seized the Indonesian-owned chemical tanker on Saturday before disembarking with the ship's captain and chief engineer.
The attack took place as the ship was sailing from Kalimantan on Borneo Island for the Indonesian port of Belawan in the Malacca Strait, one the world's busiest sea ways.
Almost all of China and Japan's oil imports and more than a quarter of global trade pass through the Strait, an area plagued by pirates.
Noel Choong of the International Maritime Bureau, a non-profit shipping association in Malaysia, says the ship was carrying an unknown but highly flammable liquid.
Mr. Choong says the incident was simply a criminal act, not terrorism. He says that on Monday the owners of the vessel are negotiating with the pirates for the release of the captain and engineer.
"At the moment we can safely say that it's a piratical attack, it's not for political gain, but it's for monetary [gain]," said Noel Choong. "But of course a lot of people are also afraid that terrorists may actually learn from the pirates."
Mr. Choong says it is impossible to say who is behind the attack, although the ship's owners blame Indonesia's Aceh separatist group, the Free Aceh Movement, or GAM.
But Mr. Choong says pirates often attack ships in the Strait and blame GAM.
The attack underscores international concerns that terrorists may team up with pirates and launch an attack in the Malacca Strait or block the waterway to disrupt world trade. One particular concern is that terrorists would seize a tanker carrying oil or gas, and then crash it into a port city.
The narrow 960-kilometer Malacca Strait is bordered by Malaysia, Indonesia, and Singapore. Last year, the three nations began coordinated security patrols in the waterway.
Security experts say the type of ship seized Saturday is the perfect size to use as a weapon.
Increased security has made land targets more difficult for terrorists, so some groups are looking for maritime targets. On Friday Malaysia said it would boost security in the Malacca Strait with a 24-hour radar system.
Seizing Platforms
OFF SHORE RIGS ARE EASILY SEIZED & HAPPENS OFTEN
AUGUST 27, 2001 10:00 EDT - Nigeria Youths Take Hostages
"LONDON (AP) — Militant youths in Nigeria have taken 16 oil workers — including five Americans — hostage after seizing their drilling rig off the African country's coast…"
April 25, 2002 - Afrol News
"Chevron Nigeria Ltd. again has been involved in a seizure of one of its offshore oil-drilling rigs."
THE LIST OF OFFSHORE OIL RIG SEIZURES/HOSTAGE TAKING IS LONG
Imminent rescue predicted for oil-rig workers Globe and Mail
Nigerian navy sails to oil platforms in hostage ordeal Azcentral
Transocean denies Nigeria navy boarded its rigs Yahoo Energy
Oil worker held in Nigeria Canada Dot Com
Nigerian Navy Boards Besieged Nigeria Rigs -Union Financial Times
Nigerian navy storms strike-hit rigs Reuters
Nigeria/Oil Workers/: Whereabouts Of Workers Unknown Yahoo Energy
UPDATE - Nigerian navy removes oil rig strikers--union Yahoo Energy
Nigerian navy boards besieged rigs - May. 1, 2003 CNN
Nigerian Navy May 'Rescue' Hostages Las Vegas Sun
Nigerian Navy May 'Rescue' Hostages The State
Nigerian Navy May 'Rescue' Hostages ABC News
Nigerian Navy Boards Besieged Nigeria Rigs -Union Reuters
Navy storms besieged Nigeria rigs Reuters
Nigerian navy boards besieged Nigeria rigs -union Yahoo Energy
Navy storms besieged Nigeria rigs Swissinfo English
Nigerian navy breaks up oil rig hostage standoff CBC
Nigeria hostage rescue 'imminent' Ananova
Nigeria navy sails to rig hostages - May. 1, 2003 CNN
Nigerian Oil Rigs Stand-off Continues Scotsman
Hostage talks sour in Nigeria The Boston Globe
Nigerian navy sails to oil rigs where hostages are held The Miami Herald
Hostage talks broken off in Nigeria Seattle Times
Nigeria sends warships to free oil rig hostages The Guardian
Nigerian navy prepares to attack oil rig Scotsman
Oil price rebounds amid worries over Nigeria The News International
Nigerian navy steps in to oil hostage crisis Australian Broadcasting Corporation
Workers trapped on Nigeria oil rigs NZ Herald
Nigerian navy ships head for Transocean rigs Houston Chronicle
Union says talks deadlocked in Nigerian hostage-taking; navy ships on the way Canada Dot Com
Nigeria Deploys Navy in Hostage Standoff The State
Nigeria Deploys Navy in Hostage Standoff ABC News
Nigeria sends warships to free oil rig hostages Hoovers
Nigerian Naval Ships Head to Offshore Oil Rigs Where Foreign Hostages Are Held Voa News
Nigeria Deploys Navy in Hostage Standoff Hoovers
Nigerian navy sails to oil platforms as hostage negotiations end in Hoovers
Negotiations Reach Stalemate in Nigeria Rig Zone
Nigeria navy to retake oil rigs City Press SA
Nigeria Deploys Navy in Hostage Standoff Yahoo Daily News
Nigeria deploys Navy in hostage standoff The State
Nigeria Deploys Navy in Hostage Standoff Las Vegas Sun
Santa Barbara News Press
7/16/02
"gubernatorial candidate Bill Simon …nearby offshore oil rigs are vulnerable to attack…"
"For more than a decade, the FBI and Marine Corps have staged training exercises on rigs in the Channel Islands to prepare for the possibility of a terrorist attack, officials said."
Why Worry ?
Boston Globe
7/27/2003
"Is It Safe?How do law enforcement agencies protect a 900-foot liquefied-natural-gas tanker from potential attack?
With everything they've got."
By H.D.S. Greenway

"Rear Admiral Vivian Crea, commanding the First Coast Guard District,
headquartered in Boston, calls the delivery 'a hazard that we are
taking steps to mitigate.'"
"Beginning 48 hours, or in some cases 24 hours, prior to an LNG ship's
arrival, the Coast Guard starts notifying a long list of agencies. It
includes the State Police and/or the police and fire departments of
Boston, Chelsea, Everett, Quincy, Revere, Weymouth, and Winthrop.
Massport, which has responsibility for the airport and the Tobin
Bridge, is on the list. The Maritime Incident Resources and Training
Partnership, which includes emergency medical services, is part of
the effort, as are the Massachusetts Emergency Management Agency, the
Massachusetts Environmental Police, and the Federal Aviation
Administration, because the ship will pass so close to the airport.
Naval Operations is also alerted, and so is the USS Constitution,
which the LNG ship will pass close by."
"The harbor ferries and tourist boats are contacted, as are the harbor
master, the harbor pilots, and the tugboats. Distrigas, which will
unload the ship, is brought into the loop, as are the Metropolitan
District Commission and the Immigration and Naturalization Service.
Also involved are the US Customs Service, the Transportation Security
Administration, and the FBI."
"As the LNG carrier passes near the Logan Airport runways, as if by magic, planes stop passing overhead."
"… with rings of escort vessels and a helicopter overhead looking for any signs of
trouble in this new age of terror. First, there come the small, fast
boats belonging to the city, state, and environmental police. The
swiftest is called an Interceptor, capable of speeds of more than 60
miles per hour. Then there are two 41-foot Coast Guard patrol boats,
with mounted M60 machine guns manned port and starboard. Closer in
are six tugs, the newest with fire-boat capabilities, and the Massachusetts Port Authority's fire boat taking up the rear. Finally, as a shepherdess herds her flock, comes the big, 110-foot Coast Guard cutter Jefferson Island, in charge of the transit, a conspicuous
cannon mounted on her foredeck. The Jefferson Island is of the same class of cutters that the Coast Guard dispatched to the Persian Gulf in the days leading up to the war in Iraq."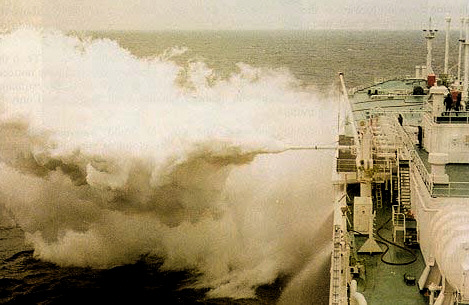 Ask Yourself...

If

Liquefied Natural Gas

IS AS SAFE

AS THE ENERGY INDUSTRY

WANTS US TO BELIEVE

THEN WHY

ALL THE EXTREME SECURITY ?

May 12, 2004

Boston Herald

LNG will skip shipment: Company commended for action for high-alert Dem convention
Full Story: https://business.bostonherald.com/businessNews/view.bg?articleid=27510

By Jon Chesto

ABSTRACTS:

Distrigas will not ship liquefied natural gas through Boston Harbor during the Democratic National Convention in July because public safety crews will be too busy to escort LNG tankers, the company said yesterday.

U.S. Reps. Michael Capuano (D-Somerville), Stephen Lynch (D-South Boston) and Edward Markey (D-Malden) praised the decision to suspend LNG shipments that week. The trio met with Coast Guard officials last week to discuss LNG security.

SECURITY EXCLUSION ZONE

ALERT TO ALL

YACHT CLUBS

RECREATIONAL CRUISERS AND SAILORS

WHALE WATCHERS AND CHANNEL ISLAND TOURISTS

REGIONAL FISHERMEN

AND ENTIRE RESORT INDUSTRY

Keep Clear Two Miles Ahead and One Mile Astern

Of a Moving LNG Carrier

Boston Globe 7/27/2003

Is It Safe?

"Among the safeguards are the Coast Guard's rules to keep clear two miles ahead and one mile astern of a moving LNG carrier, with no vessels moving at all alongside it in the narrow confines of the inner harbor…"

"All ships must keep their distance or be 'severely prosecuted.'"

"… any sudden move might be misinterpreted. Nobody wants to risk a suicide boat darting out from the shore, as happened to the USS Cole in Aden, Yemen, in October 2000."

Bay Weekly.com

August 6, 2003

https://www.bayweekly.com/year03/issuexi31/dockxi31.html

Liquefied Natural Gas Returns to Chesapeake Bay

22 million gallons dock at Cove Point

"Security zone violations are taken very seriously," says Cmdr. Gordon Loebl, chief prevention officer for the Port of Baltimore. "I can't say what will happen in each and every case. However, any person who violates a security zone … is subject to their vessel being seized and a maximum of 10 years imprisonment and a $10,000 fine."

HIGH ANXIETY ?

Ask Yourself...

Would The Coastguard's Firepower

Be Able To Shoot, Kill And Destroy

INNOCENT

Sailors, Cruisers, Whale Watchers, & Local Fishermen

Who Accidentally Penetrate The Security Exclusion Zone

?

Would It Place Our Resort And Fishing

Industry In Jeopardy

?

Would It Place Our Recreational

Lives And Enjoyment

At Extreme Risk And Danger

?

Could The Same Amount Of Firepower Even Stop

An Armed And Organized Surprise Terrorist Attack

?

Could It Stop A Small Or Large Aircraft Attack

?

Could It Stop A Multiple Aircraft Attack

?

Could It Stop Damage From Rocket Launchers

?

Could It Stop Scuba Diver Sabotage

From Below To Tanker Or Mooring Ties

?

Could it Remove Armed Terrorists

From a High-Jacked Tanker or Platform

Without Damaging Gas Holding Tanks and Valves

?

Would Military Protection Be 24/7

?

Do We Have The Available Manpower

?

Can Our Strained Budgets Afford It

?

Should Our Tax Dollars

Subsidize The Private LNG Industry Security

?

Would We Be Draining And Misappropriating

National Security Resources

?

Would You Trust Privately Armed Security Guards

To Keep Us Safe From International Terrorists

?

Would You Trust That Heavily Armed Private Security Guards

Would Not Damage Their Own Tanker or Platform or

Accidentally Shoot Local Sailors & Fishermen

?

Do You Want A

¤Liquefied Natural Gas¤

Terrorist's Bulls-Eye

Tainted Over Your Residential Community

?

New York Times

January 15, 2004
F.B.I. Director Calls Attack Quite Likely

By ERIC LICHTBLAU

Full Story: https://www.nytimes.com/2004/01/15/national/15FBI.html?th

ABSTRACTS:

WASHINGTON, Jan. 14 — The F.B.I. director, Robert S. Mueller III, said on Wednesday that terrorists would "quite probably" strike the United States again and that Al Qaeda remained a major threat despite the lowering of the nation's threat status last week.

"Al Qaeda would very much relish another high-profile attack within the United States in which numerous U.S. citizens would be killed," Mr. Mueller told reporters at a luncheon meeting sponsored by The Christian Science Monitor. "We have disrupted their capability, but there are still persons out there who have that capability."

"We are still in a position where we have substantial concern about an attack from Al Qaeda," based on intelligence from the United States and overseas. "We quite probably will at some point in time have another attack."

Copyright 2004 The New York Times Company

February 22, 2004

Mobile Register

'High' Security is Urged for LNG Tankers

Sen. John Kerry and other Massachusetts congressmen state

Concerns in letter to Homeland Security director

Full Story: https://www.al.com/news/mobileregister/index.ssf?/base/news/1077445387170050.xml

By BEN RAINES 02/22/04

Abstracts:

The federal government needs to raise the terrorist threat level in Boston to "high" every time a liquefied natural gas tanker enters the city's harbor, say members of the Massachusetts congressional delegation, including Democratic presidential front-runner Sen. John Kerry.

In a Feb. 3 letter to Tom Ridge, head of the Department of Homeland Security, Kerry and others described the LNG terminal at Everett, Mass., as a "vulnerable target," and argued that federal funds should be used to cover the costs of protecting the tankers as they transit through the harbor.

In 2003, the Congressional Research Service estimated that governments and public agencies spend $80,000 or more per visit to provide security for the vessels as they travel through Boston Harbor. Approximately $37,500 is borne by the state of Massachusetts and municipalities fronting the harbor, which must field police, fire and security officers. The Coast Guard spends another $40,000 to $50,000 "to shepherd an LNG tanker through a delivery," the research service stated…

The 2003 Congressional Research Service report indicated that officials in Massachusetts -- where local law enforcement plays a significant role in safeguarding the tankers -- have argued that the owners of the LNG terminal should shoulder the security expenses.

"Some LNG companies have resisted such suggestions, reasoning that the millions of dollars in federal, state, and local taxes they pay should cover public law enforcement and emergency services," the research service wrote in its report…

In 2002, while campaigning for a U.S. Senate seat in North Carolina, Elizabeth Dole opposed an LNG terminal proposed for North Carolina State Port Authority land near Morehead City on the coast. "The U.S. Coast Guard is being stretched thin with the additional duties taken on as a result of 9-11. We need to give our Coast Guard more resources right now, not the added responsibility of overseeing tankers bringing dangerous LNG into our ports," Dole was quoted in a North Carolina newspaper at the time.

Copyright 2004 al.com. All Rights Reserved.

April 30, 2004

BostonHerald.com

Markey seeks tighter LNG tanker security

https://news.bostonherald.com/localRegional/view.bg?articleid=12544

By Jon Chesto

U.S. Rep. Edward Markey (D-Malden) renewed his call yesterday for stronger security measures to protect liquefied natural gas tankers in Boston Harbor and tighter controls over where new LNG terminals are sited.

Markey responded to a memo from the U.S. Department of Homeland Security confirming that federal investigators believe some Algerian stowaways on LNG tankers bound to a terminal in Everett may have had terrorist ties. Algerian-flagged tankers stopped shipping LNG to Everett in May 2001.

Markey called for another review of security efforts for LNG shipments in Boston Harbor to determine whether they're adequate.

Markey also said federal authorities need to ensure that the potential for terrorist attacks be taken into consideration when approving new LNG terminal sites.

He also plans to meet privately with the Coast Guard to discuss security issues concerning the Everett terminal.

July 12, 2004

Washington Times

S. Korea shippers ignore terror threats

https://washingtontimes.com/upi-breaking/20040712-073935-7140r.htm

Seoul, South Korea, Jul. 12 (UPI) -- Despite warnings of possible terror attacks, a South Korean shipping firm said Monday it would ship natural gas from the Middle East as scheduled.

A liquefied natural gas ship was to leave a South Korean port later in the day to fetch gas from Qatar.

"We are well prepared for any incidents under the International Ship and Port Security requirements," said a company official, who asked his firm not to be identified for security reasons.

The ISPS code was introduced by the International Maritime Organization, a world maritime regulatory body, in response to the Sept. 11, 2001, attacks. It is aimed at preventing and suppressing terrorism and other unlawful acts.

South Korea's intelligence agency has warned the country's shipping firms of potential terror attacks following last week's threat from an Islamic militant group.

The Maritime Affairs and Fisheries Ministry has asked Hanjin Shipping Co. and seven other local shipping firms to strengthen vigilance and urged crew members not to go ashore in Middle Eastern countries.

Does The U S Coast Guard

Consider LNG Dangerous ?

Currently, Savannah, Georgia

Has one of the four operational LNG importation facilities in the continental USA.

Below Is A Copy Of the Coast Guard Standing Orders

At The Savannah Port for Initial Action To Take

Upon LNG Discharge

STANDING COAST GUARD ORDERS Captain Of The Port

SAVANNAH GEORGIA LNG EMERGENCY PROCEDURES:

STEP ACTION 9999

"INITIAL ACTIONS TO TAKE IN THE EVENT OF A WORST-CASE DISCHARGE OF LNG

1. Order the evacuation of all USCG personnel from affected area."

Dare LNG Proponents & Investors Call Our United States Coast Guard Alarmists?

September 21, 2004

The Providence Journal
Lloyd's executive likens LNG attack to nuclear explosion

U.S. regulators don't share the concerns of the top official at the world's second-largest commercial insurer.

01:00 AM EDT on Tuesday, September 21, 2004

https://www.projo.com/massachusetts/content/projo_20040921_ma21lng.134600.html

BY MARK REYNOLDS
Journal Staff Writer

A terrorist attack on an LNG tanker "would have the force of a small nuclear explosion," according to the chairman of Lloyd's, a British insurer of natural gas port facilities like the ones being proposed in Fall River and Providence.

The assertion, which is contested by industry experts, was in a speech that the chairman, Peter Levene, delivered last night to business leaders in Houston.

Levene described Texas as a "state at risk" and said that securing its remote oil facilities is a "particular challenge."

"Gas carriers too, whether at sea or in ports, make obvious targets," said Levene. "Specialists reckon that a terrorist attack on an LNG tanker would have the force of a small nuclear explosion."

Levene did not name the specialists in his remarks, although a text of his speech contains a footnote. The footnote attributes the observation to the author of an article posted, in an abbreviated form, on the Web site of Jane's Terrorism and Security Monitor in July. The same abstract, apparently authored by the same person, Dr. J.C.K. Daly, was also posted on the Internet weblog Talk Show American.

Levene also did not specify Texas LNG port facilities and tanker ships that might be at risk.

Records kept by federal regulators show that several LNG port facilities have been proposed in Texas. They do not show any existing facilities.

Levene's company, Lloyd's, is the world's second-largest commercial insurer.

The chairman could not be reached for comment yesterday.

Some critics of the proposal in Fall River have spoken in apocalyptic terms of potential LNG disasters.

But to date, no official reports by government regulators have made comparisons between the various LNG catastrophes that experts have hypothesized and destruction from an atomic bomb.

One report does describe hypothetical fires that might erupt if gas leaks from a tanker in its liquid form changes into a gaseous form and ignites when it comes into contact with a flame.

In one instance, the blaze, in less than a minute, would be capable of inflicting third-degree burns a little less than a mile away.

Bryan Lee, a spokesman for the Federal Energy Regulatory Commission, said federal regulators have not changed their analysis.

"Just about any expert will come up with a different assessment regarding LNG depending on the parameters and assumptions they have," said Lee, who emphasized the LNG shipping industry's safe track record.

Regulators, he said, will review the safety of different LNG proposals on a case-by-case basis.

"We stand by all of our analysis on this matter," he said.

David Manning, a spokesman for the company with plans for an LNG shipping facility at Fields Point in Providence, was taken aback by Levene's comments.

"This is completely inconsistent with any of the science and analysis that is currently in the public domain," Manning said.

Governor Romney, meanwhile, is asking for more time to study a proposed liquefied natural gas facility in Fall River, saying federal regulators haven't adequately studied potential dangers posed by a terrorist attack on a tanker.

Romney sent a letter to FERC Secretary Magalie Salas yesterday, saying terrorism must be considered as a possible threat.

"There is simply no way that it makes sense to site an LNG facility in this location in the post-911 world," Romney wrote. "A thorough review would confirm this conclusion."

e

MediaWire

October 8, 2004

https://www.emediawire.com/releases/2004/10/emw165981.htm

Anti-Terrorism Expert Praises New Film About LNG

Anti-terrorism expert gives high praises to new film, The Risks and Danger of LNG, and says, "The detail in your film of the dangers of LNG should leave no doubt in anyone's mind that we are facing a crisis when an LNG facility is sited in populated areas. It should be mandatory for every first responder to view this film." The LNG movie is now available at www.LngDANGER.com.

Colonel David Gavigan, a nationally and internationally recognized specialist in terrorism, has praised filmmakers Tim and Hayden Riley and their film, The Risks and Danger of LNG. Gavigan is a graduate of the Army War College, the chairman of Massachusetts' Bristol County Homeland Security Task Force, a member of the U.S. Attorney's Anti-Terrorism Advisory Council (ATAC), Boston, MA, and is the military and terrorism analyst for FOX 25 TV, Boston.

"Let me start by congratulating you both on the outstanding DVD I just received entitled The Risks and Danger of LNG. This has to be an award winner. When I watched the film it gave me more insight into the dangers that communities face by the greed of large companies to site dangerous materials in populated areas. I feel that your work should set an example for others who wish to protect the public. The detail in your film of the dangers of LNG should leave no doubt in anyone's mind that we are facing a crisis when an LNG facility is sited in populated areas. It should be mandatory for every first responder to view this film," said Colonel Gavigan.

The film highlights the many hazards of Liquefied Natural Gas (LNG) tankers, facilities, and pipelines; and reveals LNG's vulnerability to accidental disaster, terrorism, and demonstrates how massive its destruction can be to our American communities.

The Risks and Danger of LNG was an Official Selection of the Malibu Film Festival, and had its World Premiere screening on September 18, 2004, at the festival.

"Naturally, we were honored that our film has been recognized as an official selection in the Malibu Film Festival, and the fact that it has received such meaningful praises from an anti-terrorist expert such as Colonel Gavigan, is additional validation of our film," said co-producer Tim Riley.

"We did not try to make a slick Hollywood popcorn movie, nor was a film festival even on our radar screen," says co-producer Hayden Riley, "We made the movie to provide vital information to all Americans about the real hazards of LNG by focusing on the actual risks and dangers of LNG which are routinely minimized by the energy industry, LNG proponents, LNG investors, political allies and their internet blogging friends."

"The energy industry and its friends don't like our film, and they don't want Americans to see it, because our film provides information they prefer you didn't know," says Tim Riley, who also co-wrote the film.

"We are at war with terrorism. Vice President Cheney recently mentioned a few times during his debate with Senator Edwards that he is concerned about a nuclear weapon being unleashed in one of our residential communities. Well, so are we, and that is why we warn Americans in our film, that a loaded LNG tanker has the energy equivalent of 55 Hiroshima bombs. Terrorists could unleash that tremendous amount of energy for mass destruction of an American community without the need of a nuclear weapon. LNG proponents don't like that we are alerting America to LNG's vulnerability to terrorism and compare its devastating power to its nuclear equivalent, however, we are not alone in that regard," said Tim Riley.

On September 21, 2004, The Providence Journal, in an article entitled, "Lloyd's Executive Likens LNG Attack to Nuclear Explosion," that paper reported that a Lloyd's of London Insurance executive likened an LNG attack to a nuclear explosion. "The assertion, which is contested by industry experts, was in a speech that the chairman, Peter Levene, delivered last night to business leaders in Houston."

"Gas carriers too, whether at sea or in ports, make obvious targets," said Levene. "Specialists reckon that a terrorist attack on an LNG tanker would have the force of a small nuclear explosion."

According to documentary co-writer Hayden Riley, "Not only will LNG endanger our residential communities and make them vulnerable to devastation by terrorist sabotage, it will make America's economy weaker by exporting more American dollars for more imported fossil fuel. It also makes America's economy more vulnerable to energy market manipulation by the foreign energy nations of the Middle East and Pacific Rim. It is time for America to abandon its age old reliance on foreign fossil fuel, and it is now time to invest the same billions of dollars into America and American ingenuity, and create American jobs to develop safe renewable energy sources for America's future."

"The more people that see our movie and learn the truth about LNG, the safer the American public will be. LNG proponents label me a NIMBY (Not In My Back Yard) philosopher, well America is my backyard, so in a sense they are correct; however, the more appropriate label is NIABY - Not In America's Back Yard," said Tim Riley.

In the film the Riley's maintain, "A sound, safe American energy plan requires solutions that make America stronger not weaker, make America more self-sufficient not more dependent, make America safer not more vulnerable, and make America fossil free not more polluted."

"We thank those on the front lines like Colonel Gavigan who are protecting America from terrorism, and we are grateful that he feels so strongly about our movie. His praises of our film are very meaningful," said Hayden Riley.

To preview a short trailer and to buy a DVD or VHS copy of the film, go to www.LngDanger.com.

December 20, 2004

MSNBC.com LNG ships vulnerable to terrorist attacks

The Associated Press

Attack on gas vessel could cause big damage

Low probability, report finds, but the risk is extensive

WASHINGTON - A terrorist attack on a tanker delivering liquefied natural gas at a U.S. port could set off a fire so hot it would burn skin and damage buildings nearly a mile away, government scientists say in a report expected to influence where multibillion-dollar terminals will be built.

The report from a government nuclear weapons lab, a 160-page unclassified version of which was obtained Monday by The Associated Press, characterizes a liquefied natural gas, or LNG, tanker spill from a terrorist attack as a low probability. If successful, however, it would become "a high consequence event" that could produce massive injuries and property damage, the report said.

The yearlong study by scientists at Sandia National Laboratory, a premier federal research facility, provides the most detailed analysis to date of the potential public safety impact of a terrorist attack on an LNG transport tanker.

'Deterrent measures' urged While the report does not recommend prohibiting tankers from carrying LNG through heavily populated areas, it says those shipments should occur only after "the most rigorous deterrent measures" are in place to reduce the probability of an attack.

The tankers, each of which carries up to 30 million gallons of LNG, arrive every few days at four U.S. terminals: one on Boston's outskirts, another in Maryland and two on the Gulf Coast. All are expanding as regulators weigh the merits of putting more than three dozen more such facilities at U.S. ports, many in urban areas.

In its minus-260 degrees liquid state, LNG cannot explode and is not flammable. If a missile or explosive should tear a hole in a tanker or a storage tank, however, the escaping liquid would be transformed instantaneously into a gas and probably would ignite in a massive fire.

The Sandia report said terrorists, using readily available weapons and technology, could blast a 10-foot hole into the side of an LNG tanker.

The assessment evaluates a range of scenarios that would result in the release of millions of gallons of LNG from a transport tanker. The scenarios include a takeover of a vessel by an insider or a hijacker, as well as external attacks using explosives-laden boats, triggered explosions or rocket-propelled grenades or missiles.

Under some circumstances, an attack could produce cascading damage that could result in the failure of as many as three of a ship's five LNG cargo tanks, which would increase the fire's intensity and lengthen its duration.

Detailed discussions of specific threats were included only in the classified version of the report, but the unclassified version examined the general impact such an attack and LNG fire on water would have to people within a mile of the spill.

"We are not recommending that there be any kind of 'no ship zone,'" said Mark Maddox, a deputy assistant secretary at the Energy Department, which commissioned the study. "What we've learned is that we can significantly reduce the likelihood of a terrorist attack occurring with security planning and mitigation."

Severe burns a mile away Even with many details left out of the unclassified version, the report describes a harrowing potential for disaster if a terrorist attack were to succeed in releasing millions of gallons of LNG from a double-hulled vessel that typically carries more than 30 million gallons of the frosty liquid fuel.

The Sandia scientists identified "several credible" terrorist scenarios that the report said would result in at least one — possibly as many as three — of a tanker's five cargo tanks being breached. That would ignite a pool of fire to spread several hundred yards in all directions, the report said.

While "the most significant impacts to public health" and the most severe destruction of buildings would be within a 550-yard radius of the fire, heat that could burn the skin and damage houses could extend to nearly a mile away.

The government study also confirmed the possibility raised earlier this year by some scientists that a breach of a cargo tank could cause a cascading of structural breakdowns in adjacent tanks and result in a larger release of LNG and a more intense and longer-lasting fire. Such a cascading event "cannot be ruled out especially for large spills," the report said.

The study found that the foam insulation used on many LNG tankers was likely to decompose under intense heat from a fire, resulting in a heat transfer that "could lead to rupture or collapse" of adjacent tanks, adding to the cascading effect.

Concern about the foam was raised earlier this year by Jerry Havens, a chemical engineer at the University of Arkansas, in letters to both the Department of Homeland Security and Rep. Ed Markey, D-Mass.

Homeland Security officials initially claimed that tanks did not use foam insulation, only to later acknowledge that, in fact, the material was widely used.

While generally discounting the likelihood of an explosion, the report said that in a large release, LNG would flow into ship cavities and that with the optimal mixture of fuel and oxygen, an explosion could not be discounted. That would result in more fuel's being released onto the water.

© 2004 The Associated Press. All rights reserved.

December 21, 2004

The Boston Globe

Study spells out high toll on city in LNG attack

By Charlie Savage, Globe Staff

WASHINGTON -- A terrorist attack on a liquefied natural gas tanker would cause ''major injuries and significant damage to structures" a third of a mile away and could cause second-degree burns on people more than a mile away, according to the most detailed study yet of the ramifications of an LNG disaster.

The study, commissioned by the Department of Energy to resolve differences between earlier studies, indicates that a successful attack on a tanker -- via methods such as internal sabotage, a rocket-propelled grenade, a kamikaze flight, or a USS Cole-style suicide boat ramming -- would create a profound security threat to Boston.

MORE: https://www.boston.com/news/local/articles/2004/12/21/study_spells_out_high_toll_on_city_in_lng_attack/

December 21, 2004

Los Angeles Times

THE NATION

Tanker Blast Could Have Wide Reach

Report says a terrorist attack on a shipment of liquid natural gas could spread fire a mile away. The study may affect placement of terminals.

From Times Staff and Wire Reports

WASHINGTON — A terrorist attack on a tanker delivering liquefied natural gas at a U.S. port could set off a fire so hot it would burn skin and damage buildings nearly a mile away, government scientists said in a report expected to influence where multibillion-dollar terminals would be built on the California coast and elsewhere.

The report from a government nuclear weapons lab, a 160-page unclassified version of which was obtained Monday by Associated Press, characterized a liquefied natural gas spill from a terrorist attack as a low probability. If an attack were successful, however, it would become "a high consequence event" that could produce massive injuries and property damage, the report said.

The yearlong study by scientists at Sandia National Laboratories, a federal research facility, has provided the most detailed analysis of the potential outcome of a terrorist attack on a tanker transporting liquefied natural gas.

MORE: https://www.latimes.com/news/nationworld/nation/la-na-lng21dec21,1,6020398.story?coll=la-headlines-nation

December 21, 2004

Department of Energy Releases Liquefied Natural Gas Safety Study

An analysis prepared by DOE's Sandia National Laboratory examines the safety implications of a LNG spill. The study provides guidance on the appropriateness of LNG models, assumptions and risk management to ensure the safety of human health and property relative to a potential LNG cargo spill over water.

TO READ THE ENTIRE REPORT

CLICK HERE: https://fossil.energy.gov/programs/oilgas/storage/lng/sandia_lng_1204.pdf

February 20, 2005

The New York Times

Audit Faults U.S. for Its Spending on Port Defense

By ERIC LIPTON

WASHINGTON, Feb. 18 - The Department of Homeland Security has allocated hundreds of millions of dollars to protect ports since Sept. 11 without sufficiently focusing on those that are most vulnerable, a policy that could compromise the nation's ability to better defend against terrorist attacks, the department's inspector general has concluded.

Hundreds of thousands of dollars has been invested in redundant lighting systems and unnecessary technical equipment, the audit found, but "the program has not yet achieved its intended results in the form of actual improvement in port security."

In addition, less than a quarter of the $517 million that the department distributed in grants between June 2002 and December 2003 had been spent as of September 2004, the inspector general found. The report also questioned whether grants allocated for small projects in resort areas and some remote locations should have been considered as critical to national security needs as larger projects at ports that are more vital to the national economy.

The findings, released earlier this week, were the latest to criticize the Homeland Security Department's antiterrorism grant program, which has come under attack by people who say it has set poor priorities. For example, Wyoming received four times as much antiterrorism money per capita as New York did last year, according to a Congressional report.

A Department of Homeland Security spokesman, citing the department's defense of the port grants that was included in the audit, declined requests for further comment. In remarks included in the audit, a Homeland Security official said the department had taken the higher risk factor of larger ports into account.

Ninety-five percent of all international commerce enters the United States through its roughly 360 public and private ports. But nearly 80 percent of that trade moves through only 10 ports, with the biggest loads passing through Los Angeles, Long Beach and Oakland in California and New York. That is why the nation's biggest ports are seen as particularly attractive as terrorist targets. Severely damaging one would not only cause deaths, injuries and property damage, but could also disrupt the flow of many basic goods into and out of the country, port officials say.

More: https://www.nytimes.com/2005/02/20/politics/20secure.html?pagewanted=1&th

July 10, 2005

Michael Richardson: Maritime attacks could damage our gas exports
Australian - Australia However, recent developments have evidently prompted Canberra to pay much closer attention to the possibility of an attack launched by al-Qai'da-inspired terrorists in the southern Philippines against ships carrying billions of dollars of Australian exports to Asia and the US, including tankers laden with liquefied natural gas headed for Japan, South Korea or Taiwan. The destinations will soon include China and the west coast of North America as well.

______________________________________________________________________________________________

Anti-Terrorism Expert Praises LNG Film: The Risks and Danger of LNG

Colonel David Gavigan, a nationally and internationally recognized specialist in terrorism, has praised filmmakers Tim and Hayden Riley and their film, The Risks and Danger of LNG. Gavigan is a graduate of the Army War College, the chairman of Massachusetts' Bristol County Homeland Security Task Force, a member of the U.S. Attorney's Anti-Terrorism Advisory Council (ATAC), Boston, MA, and is the military and terrorism analyst for FOX 25 TV, Boston.

"Let me start by congratulating you both on the outstanding DVD I just received entitled The Risks and Danger of LNG. This has to be an award winner. When I watched the film it gave me more insight into the dangers that communities face by the greed of large companies to site dangerous materials in populated areas. I feel that your work should set an example for others who wish to protect the public. The detail in your film of the dangers of LNG should leave no doubt in anyone's mind that we are facing a crisis when an LNG facility is sited in populated areas. It should be mandatory for every first responder to view this film," said Colonel Gavigan.

The Law Office of Tim Riley also provides Continuing Legal Education for Attorneys at

MCLEapproved.com AZ CA CO FL GA IL IN IA KY NV NY NC TN TX WA

Copyright Owner Tim Riley 2004

Any unauthorized downloading or distribution of this copyrighted material from this site or the linked sites,

Without the copyright owner's permission Is Strictly Prohibited